About Us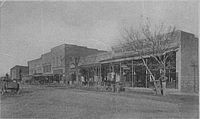 We are members of the National Federation of Independent Businesses (NFIB), Weakley County Chamber of Commerce, Dresden Business Association.
Who'd of thought it possible? My great-grandfather, E. T. Reavis, sure wouldn't have. Hi! My name is Tom Reavis and I would personally like to thank you for "dropping by" the store for a visit. If you will indulge me for a moment, I would like to give you a little bit of history about our store, both past and present.
We've been around awhile, Pap (E. T. Reavis) came to Dresden from his home on the family farm just southeast of Dresden along about 1890 at the age of 21. The Reavis family has been in northwest Tennessee since the early 1800's, having come west from the Carolinas. Pap was employed by Charlie Cottrell as a clerk in a dry goods store. Now I don't know if it's a fact or not, but mom and dad told me that he spent his nights in the back room of the store on a cot. Of course, the walk back home every night would have been pretty tough, so, I guess it's true. Along about 1895, Pap went into business for himself.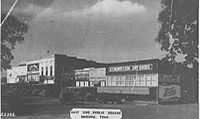 The business was started as Reavis and Mayo. Other names that followed were Reavis and Duke and Reavis and Loyd. Around 1920, the firm became known as E. T. Reavis and Son and has remained under that name ever since.
Every generation since E. T. Reavis has been involved in the business. My grandfather (Loyd L. Reavis, Sr.) and father (Loyd L. Reavis, Jr.) and mother (Dorothy H. Reavis) were involved in the daily operations until their untimely deaths at early ages.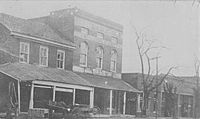 Now, it's me and my two sisters: Thomas (Tom) L. Reavis, Martha Reavis Killebrew and Carol Reavis Moore. Martha and Carol both teach school at Dresden Middle School. You can't call it Junior High anymore. After school, they come down to the store and let me run my errands. When I get back, they tell me everything that I "need" to do at the store.
You see, I'm the "baby" in the family. All of you family "babies" know what I'm talking about. Carol, the middle child, is the bossy one. Martha and I usually jump when Carol tells us how high. Carol was the only child that would talk back to our father. Martha, I swear, is turning into my mother. You know, sorta forgetful. Seriously, they're good gals and I appreciate and love them very much. I could not run the place without them. We all have spouses and youngins, but I have to save something for future updates, so you will have to visit us again.
I want to thank you again for dropping by the store. Your "logging on" our web site is the same as walking through our doors to us. You are the reason we're here and have been for over a century. If you are ever in the Dresden area of northwest Tennessee, please come by and visit. The "girls" will not be here until around 4:00 PM (bankers hours) though. We would love to meet you. We would also appreciate your comments concerning our site and service and any suggestions that you might have. Compliments? Sure we like those even better.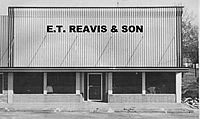 We are relatively new to the internet business. Right now, we have just a few products available online. But, boy do we have plans! Just keep checking back with us to see what's new.
Ordering is easy. Use our online shopping cart or call us on our toll free number at 1-800-962-6166. We accept Visa, MasterCard, Discover, and American Express. You may also use money orders, cashiers checks, or personal checks. Orders paid by personal check will be held until clearing banking channels which is about 2 weeks. Please enjoy our website and online store. We are indeed glad you stopped by to see us.